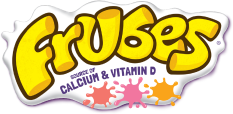 FAQS
What are Frubes made of?
Frubes kids' yoghurt tubes are food made fun! Kids love the taste; they can't wait to squeeze the life out of them! And parents love them because they are a great healthy snack enriched with Calcium and Vitamin D. The perfect treat for any occasion!
Are Frubes made from cow's milk?
Yes, Frubes are made from cow's milk. To ensure the highest quality of milk, our dairy farmers are located close to our factories to ensure a daily delivery of fresh milk.
Are Frubes lactose-free?
No, Frubes aren't lactose-free, they contain lactose from the cow's milk. For those who are lactose intolerant, However, check out Petits Filous Dairy Free Alternative Yoghurt if your little one is lactose-intolerant.
Are Frubes safe for babies to eat?
Frubes are intended to be consumed by kids aged 4+ year old.
Can Frubes be frozen?
Yes! Frubes can be frozen and can be eaten as dairy ice lollies, a perfect treat for summer! Pop them in a freezer immediately after purchase, and allow them to freeze for 4 hours. Take them out 2-3 minutes before eating and enjoy!
Why is Vitamin D important?
Vitamin D is an essential vitamin that helps our bodies absorb Calcium from food and drink. It is really important as it maintains healthy bones*, especially in children. We can get our Vitamin D from sunlight, hence why it is sometimes known as the 'sunshine vitamin'; our body converts the sunlight we receive on our skin to Vitamin D. Unfortunately, the sun doesn't always shine so it is important to eat foods that are rich in Vitamin D.
All our Frubes products are enriched with Vitamin D and have been for 15 years
*Calcium and Vitamin D are needed for normal growth and development of bone in children.
A varied and balanced diet is important as part of a healthy lifestyle
Why is Calcium important?
Calcium is an essential mineral that is needed for normal growth and development of bones in children
Calcium is essential for building strong bones. Children aged 4 to 10 years need between 450mg and 550mg of calcium per day and 11- to 18-year-olds need almost twice as much (800-1000mg).
All our Frubes products are enriched with Calcium.
Source: Government Dietary Recommendations, Public Health England, 2016
How much Calcium and Vitamin D does a child need to eat?
Children aged between 4-10 years are recommended to have:
10 µg Vitamin D
450-550mg Calcium
2 Frubes tubes are equal to 2,5µg of Vitamin D and 120mg of Calcium Learn more about Calcium and Vitamin D on our Lunchbox Lifestyle page
Source: Government Dietary Recommendations, Public Health England, 2016
Is Frubes packaging recyclable?
The cardboard outer box is recyclable but currently not the tubes. We are committed to ensuring that all of our packaging is recyclable by 2025.
Are Frubes suitable for lunchboxes?
Frubes are absolutely perfect for lunchboxes! They can stay up to 8 hours out of the fridge*. Our tube format are convenient for lunchboxes – perfect for small hands! They are also enriched with Calcium and Vitamin D which are needed as part of a balanced kid's diet.
*After 8 hours, the product must be discarded
Are there any artificial flavouring, colouring, or sweeteners in Frubes?
There is no artificial flavourings, colourings, or sweeteners in our Frubes tubes!
Are Frubes a source of protein?
Yes, our Frubes products are a source of protein. Protein is important to help the body build, repair and maintain body tissues.
Are Frubes products gluten-free?
Yes, Frubes do not contain any gluten.
Can Frubes be eaten by vegetarians and vegans?
Frubes can be eaten by vegetarians but cannot be eaten by vegans since Frubes are made with cows' milk.
What is the difference between 'Best Before Date' and 'Use by Date'?
Frubes have a Use by date, every pack is expected to remain in good eating condition until the use by date is reached. It should be consumed within the Use by date.
The Use by Date refers to the date by which a product must be consumed while Best Before Date is more of a recommendation on when the product should be consumed before the quality changes.